iPhone Conference calls and records? No problem with iCall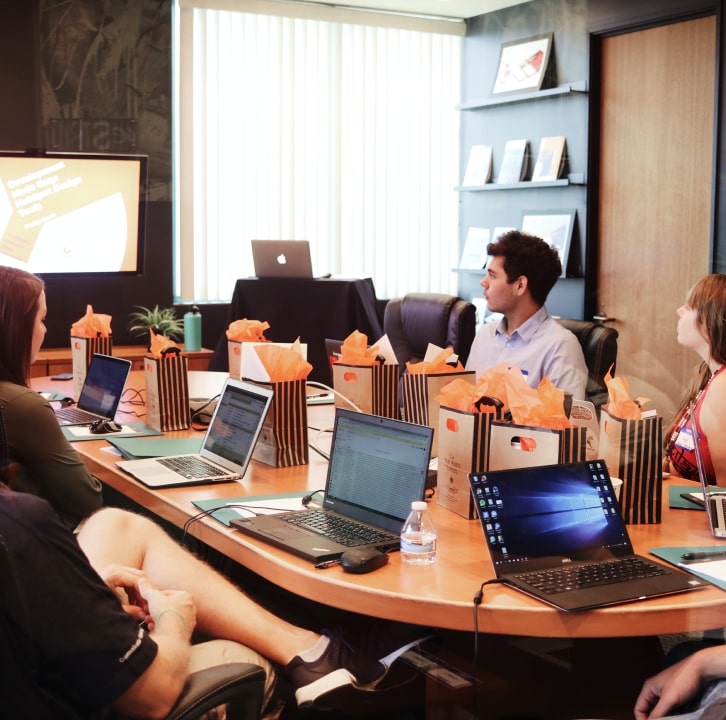 The modern iPhone is a device that allows you to do almost everything. But it remains a communication means. Despite its countless qualities and possibilities, its primary function is to make calls.
Still, making calls in 2020 is not just connecting two people. Our daily life sets a lot of other challenges, and the most important ones are conference calls and the recording of the phone call. Can we do this on the iPhone? Yes, sure. There is the iCall app for that. Let's check what useful things it can do for our communication.
What is conference calling on iPhone?
The option to talk on the phone with several people at once is not anything new. It was here long ago. However, there always was one fundamental difference: you could talk to only one person at a time. If you had two people on the line, the other one had to wait and listen to the silence or some music while you were talking to someone.
On another hand, we need to talk to several people. And all participants should communicate with each other. Such functionality is present in instant messengers like Skype. We call it "three-way calling" or "conference calling."
Now it is possible to have it on your iPhone for the usual phone calls. It will be a full-fledged phone chat of three participants.
Apple made the functionality available by default. Most mobile phone providers in the USA activate this feature for their users at once. But it is different with the non-USA providers. They usually have conference calls disabled. You will have to address the provider directly and request this option. Except for this, there won't be any troubles – iPhone has the capabilities, the choice is standard, and the service activation is free of charge.
Recording conference calls on iPhone with iCall
Recording calls is a highly demanded service nowadays. It does not matter if it is a business conference or a friendly talk – you may need to have a record of it. It is the option to refer to it for information and make plans and decisions using those recorded data.
Many apps serve for this. And while there is a wide variety of options for simple 2-ways calls recording, it can be tricky with 3-way calls. Some apps can record only one line, and the second one will be empty or of bad quality. iCall was designed to resolve this trouble. When you use an iPhone for three-ways calls, you can record them right on the way
Start the conference call on the iPhone.
The procedure is simple and unified on all iPhone devices in any country:
Dial the phone number. If you want to add the iCall system at once – tap its icon to launch the app and then tap the "recording" option in its UI.
When you establish the connection with the first participant, note the "Add Call" notification on the iPhone screen. It is optional, but your iPhone will always offer you this possibility.
If you want to have a group call in the conference mode, tap the "Add Call" icon. Your device will open the system Phone app. Using this default app, you can either dial another number directly or choose the addressee from the contacts list.
Connect to the second participant. Note that you will have two parallel lines. When you get connected with the second contact, the first call will be on hold. For some time, you can have two separate chats and talk to the people in turn. While you are speaking to one of them, your second addressee will not hear that.
To create a conference call, you need to merge these two separate phone chat lines. Your iPhone will offer you doing this automatically.
The "Add Call" icon will disappear, and you will get the "Merge Calls" icon instead. This opportunity is here by default if you have two phone calls with different contacts at the same time. It is optional as well, as you might need separate talks with people. Still, the iPhone will give you the means to turn these two separate phone chats into one with the three participants.
Tap "Merge Calls" – and that's all. You shift to the conference mode, and all people taking part in this conversation can hear each other and talk to each other directly.
While you are talking, the iPhone screen will have the "Conference" notification on the screen. You will always see if this group call is in progress. You will also get the additional information and the means to control it. Your iPhone will display the contacts you are talking to, and let you remove one of the participants if needed.
In case you have to exchange some private information with one of your addressees, you don't need to stop this call and make a new direct one. You can mute one of the participants temporarily or even drop them from the conference.
As you see, making a 3-way call in the conference mode is simple when you use your iPhone. You don't need to search and install any additional apps and configure them – they in Apple have already done everything themselves:
Start a call to one person;
Tap "Add Call" and connect to the second contact;
Get the two active simultaneous phone talks;
Tap "Merge Calls" and turn these two calls into one.
Record the conference call with iCall
When you use the iCall application, it serves as the fourth participant of your conference call. It "hears" everyone's words and records them.
Using this app is easy; the recording process starts with one tap. You don't need to fidget with settings – the default configuration provides the best quality possible.
Thus, if you need to record your conference call on iPhone with iCall, just do the following:
Lunch the iCall app and tap "Record" in its main screen;
Start your call – single or conference, as described above;
The app will record your conversation for as long as you have it – there are no time limitations.
After the end of the phone talk, you will get access to the record at once. You can replay it on the iPhone, and also share it to the cloud or another app.
Using iCall recording with GSM and CDMA
Though Apple has made the conference call a default option for iPhones, you might face some difficulties using it. The most frequent cause is the technical peculiarities of the cell phone network. Or, in brief, the quality might depend on whether you deal with the GSM or CDMA standards.
GSM is the world standard of the cell phone connection. It is widespread all over the world, and the most potent mobile carriers favor it. If you are in the USA, the GSM carriers are the giants AT&T and T-Mobile.
CDMA is an alternative technology. In some aspects, it is even superior, but in some other ways, it yields to GSM. Though it is well-known and respected, its scope is less than that of GSM. However, such established providers as Verizon, US Cellular, and Sprint (all in the USA) use this technology for mobile communication.
In most cases, it does not make any difference if your provider prefers GSM or CDMA. Both systems are reliable and convenient. One issue emerges when we deal with conference calls on iPhones.
If you are an iPhone user, and your provider is CDMA-based, it can show the "Merge Calls" option with a delay. It also depends on the quality of connection and the network in the area. Still, the issue remains: it can make a delay.
In practice, it means that you will have to wait up to a minute before you get the possibility to merge your calls. And until then, you will have your two separate talks. Thus, it would be a good idea to test if it can take place before starting an urgent conference call.
However, if the "Merge Calls" button does not appear even after a minute of having two simultaneous calls, you'd better contact the support service of your mobile carrier. The conference calls may not be active in your account for iPhone, and you will need to request their activation.
As for the iCall app for the call recording, the best way is to launch it at once when you call the first person. The app will be active and ready. When you get the second person on the call and get the "Merge Calls" button active, you can create a conference. And iCall will record your conversation, as always, without any delays.
Note that your provider may calculate minutes for a conference call as the two separate calls. For instance, a 10-minutes conference call with two counterparts will "cost" you 20 minutes – the carrier can calculate it as two 10-minutes calls. It is not an issue if your service plan provides you with unlimited minutes, of course. But you might need to pay attention to this possibility if there are limitations on the number of minutes you have.
There are also some other issues taking place occasionally. In some non-USA areas, mobile carriers can enable "background" music for the one on hold. Some mobile service providers insert random signals into the conference calls. Of course, it is no harm (annoying only), but it can become very inconvenient if you don't want your counterparts to know about the second call. In any case, these are some additional details that we'd like to tell you.
Apple is worth praising for making the 3-ways calls so simple. You don't need to configure the settings and manipulate different accounts. You only need your iPhone with this built-in feature. And we've done our best to provide you with the tool to record any incoming or outcoming calls. iCall must make the conference calls recording (or any other calls recording) as easy as it is possible.